<i>Comparettia sotoana</i> (Orchidaceae: Oncidiinae), a new Ecuadorian specieS
Keywords:
orchidaceae, oncidiinae, comparettia, c. sotoana, new species, ecuador
Abstract
A new species of Comparettia, C. sotoana, is described and illustrated from the province of Morona- Santiago, in southeastern Ecuador. Comparettia sotoana is compared with Comparettia langkastii, from which it mainly differs by the laterally flattened leaves, the subumbellate (vs. distichous), several-flowered (vs. 2-flowered) inflorescence, the short, straight sepaline spur (vs. long, curved), and the ovate-subpandurate lip with a cuspidate midlobe (vs. pandurate with a deeply retuse, apiculate midlobe) provided with digitateconical basal processes, uncinate at apex and expanded into rounded knobs (vs. straight, acuminate), and lacking apical calli (present in C. langkastii).
Downloads
Download data is not yet available.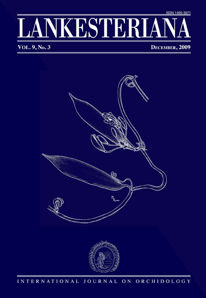 Downloads
How to Cite
Pupulin, F., & Merino, G. (2013). <i>Comparettia sotoana</i> (Orchidaceae: Oncidiinae), a new Ecuadorian specieS. Lankesteriana: International Journal on Orchidology, 9(3). https://doi.org/10.15517/lank.v0i0.12075
License
According to the Open Access policy promoted by the University of Costa Rica, all the papers published by Lankesteriana are licensed under the Creative Commons copyright and can be downloaded free of charge. The journal holds copyright and publishing rights under the CC BY-NC-ND 3.0 CR license.
Before the publication of the materials submitted by the author(s) in LANKESTERIANA, the author(s) hereby assign all rights in the article to the Lankester Botanical Garden.