Genera Pleurothallidinarum: the era of Carlyle Luer
Abstract
The era or Carlyle Luer, which currently comprehends the forty-two years since the publication of the first Icones Pleurothallidinarum in 1975, has witnessed a true revolution in the knowledge and understanding of the species belonging to the subtribe. When Luer came into the scene, after more than two hundred years of Pleurothallidinae history, there were barely 4,000 published taxon names in the subtribe, including 52 generic names and barely 1,650 accepted species. Today there are 12,133 published taxon names, including 164 generic names, and 5,114 currently accepted species belonging to the subtribe. This means that during the Luerian era published taxa, accepted or otherwise, were tripled. During this period the rate of species description has been about 85-90 species per year, and there is nothing suggesting this rate will slow down anytime soon. If this trend is maintained, as we believe it will, by the year 2026, the subtribe will include close to six thousand accepted species. 
Downloads
Download data is not yet available.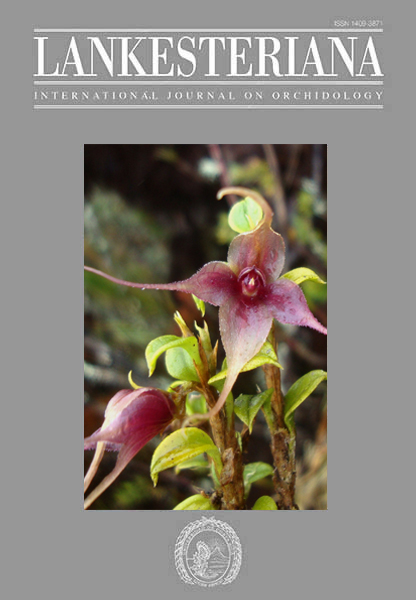 Downloads
How to Cite
Karremans, A. P., & Davin, N. (2017). Genera Pleurothallidinarum: the era of Carlyle Luer. Lankesteriana: International Journal on Orchidology, 17(2). https://doi.org/10.15517/lank.v17i2.30273
License
According to the Open Access policy promoted by the University of Costa Rica, all the papers published by Lankesteriana are licensed under the Creative Commons copyright and can be downloaded free of charge. The journal holds copyright and publishing rights under the CC BY-NC-ND 3.0 CR license.
Before the publication of the materials submitted by the author(s) in LANKESTERIANA, the author(s) hereby assign all rights in the article to the Lankester Botanical Garden.