Two new orchid species (<i>Camaridium</i>: Maxillariinae; <i>Lepanthes</i>: Pleurothallidinae) from the Pacific slope of the Northern Andes, Colombia
Keywords:
Andes, Chocó biogeographic region, epiphyte diversity, Neotropical realm, new species, Orchidaceae
Abstract
The Northern Andean Cordillera in Colombia hosts unique, megadiverse, and fragile ecosystems, including wet tropical lowland, cloud forest, and paramo that are essential for climate regulation and the subsistence of human settlements. The Serrania de Los Paraguas on the Pacific slope of the western range of the Northern Andes, Colombia, is an ecosystem that needs to be preserved in the face of a major threat due to rapid deforestation. However, there have been very few explorations surveying its plant diversity in the area. Here, we describe two new orchid species from the genera Camaridium (C. antonellii: Maxillariinae, Cymbidieae) and Lepanthes (L. valerieae: Pleurothallidinae, Epidendreae) discovered during a floristic survey conducted in the region. Camaridium antonellii is similar to C. inauditum but differs in the fractiflex, ovate-elliptic, acute leaves, the flowers with pink sepals and petals, the lip white, distinctly three-lobed, spotted with purple on the lateral lobes and yellow-cream towards the apex, the mid-lobe ovate to transverse ovate and lanceolate sepals. Lepanthes valerieae, which is similar to L. antennata, differs in the long apical lobes of the petals, surpassing the dorsal sepal, the longer connectives > 18 mm, rounded lobes of the lip, and the oblong, flattened appendix. Illustrations, distribution maps, and photographs are provided.
Downloads
Download data is not yet available.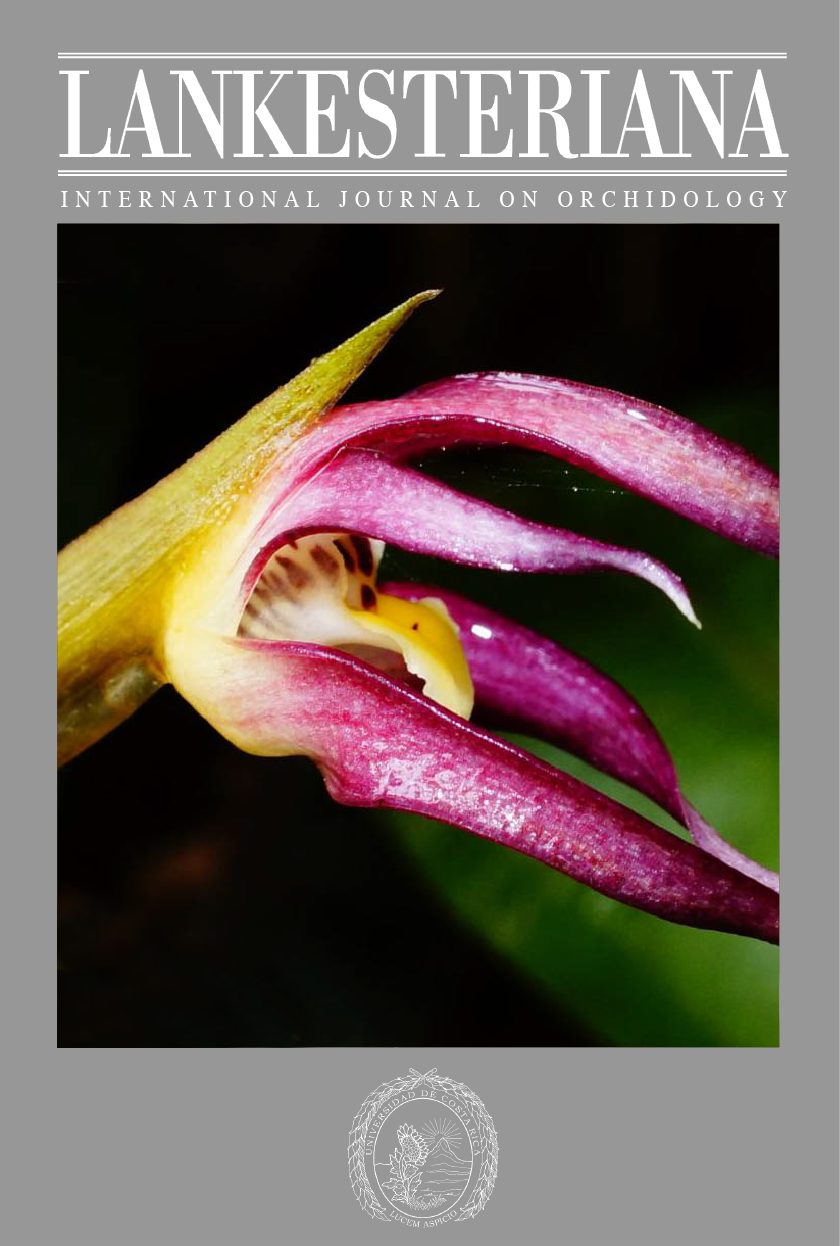 How to Cite
Pérez-Escobar, O. A., Jaramillo, C., Zuluaga, A., García-Revelo, S., Dodsworth, S., & Bogarín, D. (2021). Two new orchid species (<i>Camaridium</i>: Maxillariinae; <i>Lepanthes</i>: Pleurothallidinae) from the Pacific slope of the Northern Andes, Colombia. Lankesteriana: International Journal on Orchidology, 21(3), 351–362. https://doi.org/10.15517/lank.v21i3.49471
License
According to the Open Access policy promoted by the University of Costa Rica, all the papers published by Lankesteriana are licensed under the Creative Commons copyright and can be downloaded free of charge. The journal holds copyright and publishing rights under the CC BY-NC-ND 3.0 CR license.
Before the publication of the materials submitted by the author(s) in LANKESTERIANA, the author(s) hereby assign all rights in the article to the Lankester Botanical Garden.