Abstract
Hace unos 70 millones de años, en una isla tropical de lo que hoy es Transilvania, vivía un lagarto volador gigante que aterrorizaba a los dinosaurios empequeñecidos que sobrevivían allí a las difíciles condiciones de la época. Según se le considere carroñero o cazador, su reconstrucción resulta notablemente diferente.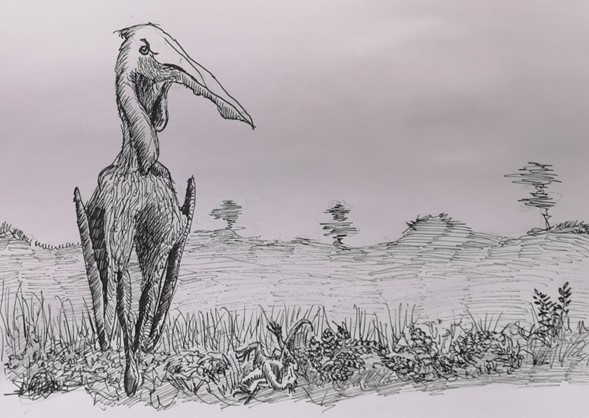 References
Naish, D., & Witton, M. P. (2017). Neck biomechanics indicate that giant Transylvanian azhdarchid pterosaurs were short-necked arch predators. PeerJ, 5, e2908.
Bestwick, J., Unwin, D. M., Butler, R. J., Henderson, D. M., & Purnell, M. A. (2018). Pterosaur dietary hypotheses: a review of ideas and approaches. Biological Reviews, 93(4), 2021-2048.
Botfalvai, G., Csiki-Sava, Z., Kocsis, L., Albert, G., Magyar, J., Bodor, E. R., ... & Makádi, L. (2021). 'X'marks the spot! Sedimentological, geochemical and palaeontological investigations of Upper Cretaceous (Maastrichtian) vertebrate fossil localities from the Vălioara valley (Densuş-Ciula Formation, Hațeg Basin, Romania). Cretaceous Research, 123, 104781.
Monge-Nájera, J. (2021). Cleopatra's Snail: Natural history stories about snails and other animals. Zenodo Book. Edited by K. Bonilla-Badilla.
This work is licensed under a Creative Commons Attribution 4.0 International License.
Downloads
Download data is not yet available.