Current Issue
Vol. 25 No. 3 (2023)
Published August 31, 2023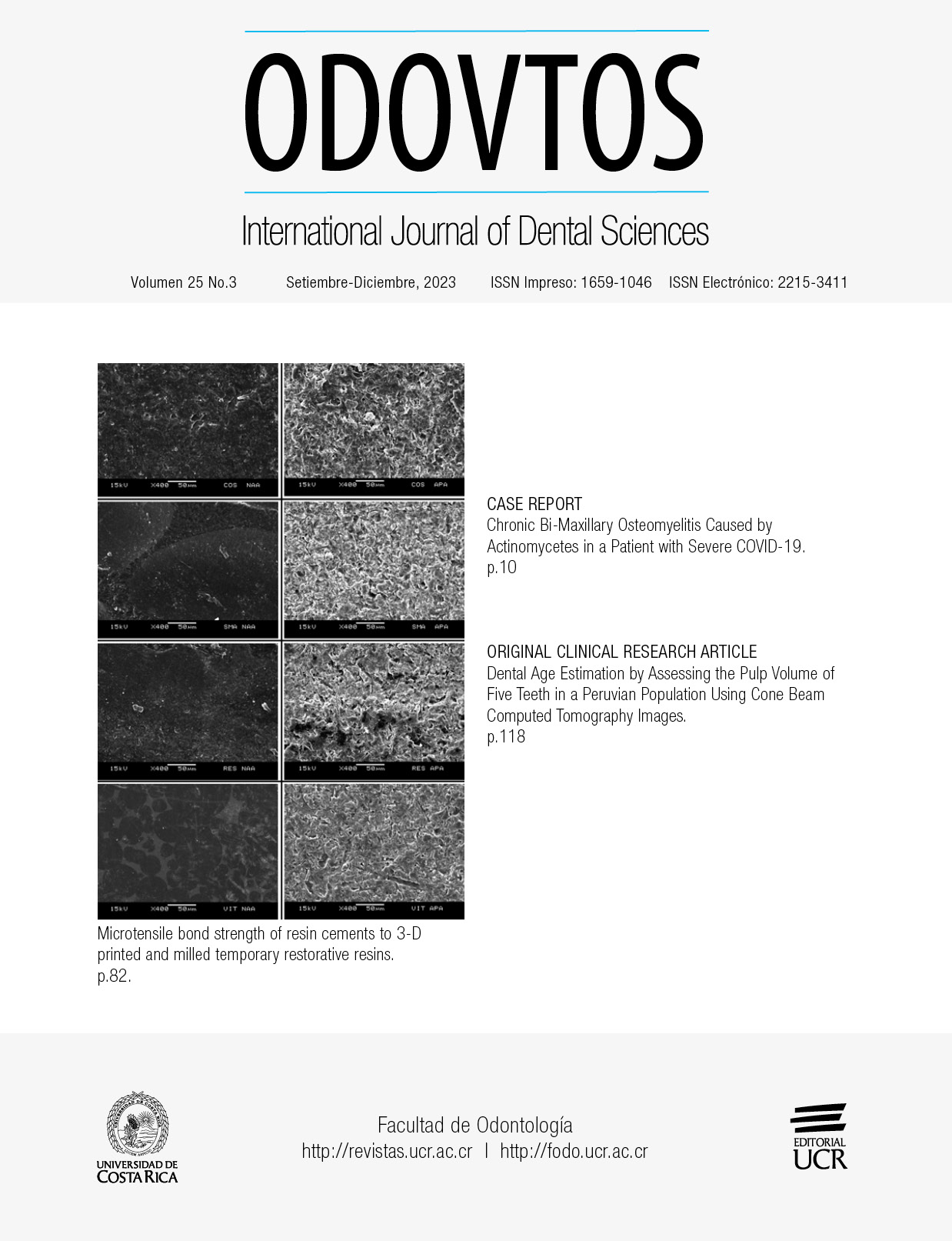 Odovtos – International Journal of Dental Sciences  (Odovtos-Int J Dent Sc) is the official scientific publication of the Faculty of Dentistry, University of Costa Rica.  The main objective of this peer-reviewed journal is to disseminate original and transcendental knowledge in the field of dentistry and its specialties.
  Odovtos-Int J Dent Sc primary readership consists of dentists, dental educators, academics, dental students, researchers, health professionals and general public interested in expanding their knowledge in the area.
  Our journal consider unpublished and original manuscripts in ENGLISH with a prominent focus on critical and innovative data, promoting major clinical, academic and scientific research, based on International Committee of Medical Journal Editors (ICMJE) recommendations. Odovtos - Int J Dent Sc offers Online-First publication, allowing frequent dissemination of its content. 
You can access our Journal Normalized Citation Impact  and Citation Impact in InCites-Clarivate:
Incites - Clarivate Citation Impact
2022 JCR Impact Factor list of Clarivate Analytics: 0.5.
WHY SUBMIT YOUR PAPER TO OUR JOURNAL?
Odovtos – International Journal of Dental Sciences compromises to disseminate their contents worldwide, through collaborations with several Dental Schools, online databases, index and repositories, website, social media, among others. All submitted manuscripts are peer-reviewed based solely on the criteria of quality, innovation and pertinence. The pre-publication process is brief due to online submission. Moreover, Odovtos-Int. J. Dent. Sc. is an Online-First Journal, which allows frequent publication in Internet according to Open Access Initiative, favoring the diffusion of its content.
Journal indexed:
ODOVTOS is indexed in Clarivate Analytics with a 2022 JCR Impact Factor list of Clarivate Analytics: 0.5.
Our journal is also indexed in:
Scopus
SCIELO
REDALYC
DOAJ
LATINDEX
LILACS
DIALNET
ESCI-CLARIVATE ANALYTICS
REDIB
PERIODICA
ICJME
MIAR
ROAD
BIBLAT
EUROPUB
EBSCO
PROQUEST
ULRICHS
COPAC
PKP INDEX
JOURNAL TOCS
DRJI
DAIJ
J-GATE
INDEX COPERNICUS
Announcements
ODOVTOS - Int. J. Dent. Sc. achieved an initial impact factor of 0.5.
Dear esteemed contributor,
We extend our heartfelt gratitude for your invaluable contributions to ODOVTOS - International Journal of Dental Sciences. It brings us immense pleasure to announce that our journal has secured a coveted spot on the 2022 JCR Impact Factor list of Clarivate Analytics. ODOVTOS is the unique journal of Central America in the list, being just included other four journals of Latin America.
In the Dentistry, Oral Surgery & Medicine category, our journal has achieved a remarkable ranking of 133 out of 156 with a Quartile Q4 and an Impact Factor of 0.5. Furthermore, our Journal Citation Indicator rises and stands at 0.19.
We take immense pride in sharing that ODOVTOS has achieved its highest data performance to date, and we are confident that with your continued support and contributions, our data will continue to improve exponentially.
We urge you to share your paper with your network and help us celebrate this significant milestone. Thank you for being an integral part of our success.
Sincerely,
Ph.D Jessie Reyes-Carmona
Editor-in-chief
ODOVTOS - International Journal of Dental Sciences
More…