Use of Beauveria bassiana on the control of Tecla [Strymon megarus (Lepidoptera: Lycaenidae)] on pineapple (Ananas comosus (L.) Merr)
Keywords:
entomopathogenic fungus, biological control, fruit borer
Abstract
Introduction. The increase in pineapple (Ananas comosus (L.) Merr.) production demands good quality fruits from the market, with less environmental impact and minimal use of chemical products. Objective. To determine the effective dose of the fungus Beauveria bassiana and the appropriate formulation as a bioinsecticide for the control of key (Strymon megarus Godart) in pineapple crop. Materials and methods. This research was developed from February to April 2019 on a farm at Río Jiménez, Guácimo, Limón, Costa Rica. An unrestricted randomized plot design with repeated means over time was established with seven treatments and five replicates per treatment. For each replicate, data from twenty-five pineapple fruits were collected weekly, from 50 to 92 days after floral induction (ddf). The treatments were: B. bassiana WP at doses of 1.0, 2.0, and 3.0 kg ha-1, two treatments of B. bassiana at 3 kg ha-1, Carrier adjuvant, and oil-miscible formulation (OL), there were also an absolute control without insecticide application, and a biological insecticide Turex 3.8 WP (Bacillus thuringiensis) at 1.0 kg ha-1. Five sprays were made per treatment, the first at 50 ddf, and the rest at seven-day intervals until reaching 78 days. Results. All treatments showed a lower incidence of old damage (gummosis) compared to the absolute control. Only the T7 (comercial control B. thurigiensis 1 kg ha-1) and T2 (B. bassiana a 1 kg ha-1) treatments showed a damage incidence lower than 5 % during the whole evaluation period without significant differences between them, but with the rest of the treatments. Conclusion. The T7 (commercial control B. thurigiensis 1 kg ha-1) and T2 (B. bassiana 1 kg ha-1), treatments were the most effective for the control of Strymon megarus Godart in pineapple crops.
Downloads
Download data is not yet available.
References
Baró Bulet, D., & Massó Villalón, E. (2013). Efectos provocados por Bacillus thuringiensis cepa-13 sobre Chrysopa exterior en condiciones de laboratorio. Fitosanidad, 17(1), 25–30. https://www.redalyc.org/pdf/2091/209128776004.pdf
Bermúdez Robles, F. J. (2005). Control del daño por Strymon basilides (Lepidóptera: Lycaenidae) en la piña [Tesis de Licenciatura, no publicada]. Universidad EARTH.
Bolaños, R., Watson, V., & Tosi, J. (2005). Mapa ecológico de Costa Rica (Zonas de Vida), según el sistema de clasificación de zonas de vida del mundo de L.R. Holdridge), Escala 1:750.000. Centro Científico Tropical.
Brenes Gamboa, S. (2005). Caracterización vegetativa y productiva del cultivar MD-2 de piña (Ananas comosus) bajo las condiciones climáticas de Turrialba. InterSedes, 6(11), 27–34. https://revistas.ucr.ac.cr/index.php/intersedes/article/view/948
Cámara Nacional de Productores y Exportadores de Piña. (2021). ¿Por qué la producción de piña en Costa Rica es un sector esencial para la economía?. Obtenido el 14 de setiembre, 2021, de https://canapep.com/produccion-pina-costa-rica-sector-economia/
Cano, E., Carballo, M., Chaput, P., Fernández, O., Gonzáles, L., Gruber, A. K., Guharay, F., Hidalgo, E., Narváez, C., López, J. A., Rizo, C., Rodríguez, A., Rodríguez, C., & Salazar, D. (2004). Control biológico de plagas agrícolas. Centro Agronómico Tropical de Investigación y Enseñanza. https://bit.ly/3uIvO1A
Centro de Exportación e Inversión de la República Dominicana. (2017). Perfil: Producto Piña. https://bit.ly/3ohTRRi
Coto, D., & Saunders, J. L. (2004). Insectos plagas de cultivos perennes con énfasis en frutales de América Central. Centro Agronómico Tropical de Investigación y Enseñanza.
Díaz, A., & Forero, M. (1997). Producción y purificación del complejo espora cristal de Bacillus thuringiensis HD 137 con actividad contra Spodoptera frugiperda [Tesis de Grado, no publicada]. Universidad Nacional de Colombia.
Gómez Vega, O. (2003). Estudio semidetallado de suelos para palma aceitera en los cantones de Guácimo y Pococí, provincia de Limón. Instituto Nacional de Tecnología Agropecuaria, & Ministerio de Agricultura y Ganadería. http://www.mag.go.cr/bibliotecavirtual/P30-9475.pdf
Inclán, D. J., Alvarado, E., & Williams, R. N. (2007). Evaluación de cuatro insecticidas naturales para el control de Tecla, Strymon megarus (Godart) (Lepidoptera: Lycaenidae), en el cultivo de piña. Tierra Tropical, 3(2), 199–210.
Instituto para la Innovación Tecnológica en la Agricultura. (2018, octubre). Manejo del barrenador del fruto en el cultivo de piña. https://bit.ly/3IvWKHC
Jiménez Díaz, J. A. (1999). Manual práctico para el cultivo de piña de exportación. Editorial Tecnológica de Costa Rica.
Maldonado, Y. (1997). Manual de identificación de plagas, enfermedades y deficiencias en el cultivo de la piña. Estación Experimental La Jota.
Marino, C. F. (2001). Caracterización y evaluación de la estabilidad biocontroladora y microblológica de preformulados granulados a base del hongo entomopatógeno Metarhizium anisopliae para el control de la chiza Ancognatha scarabaeoides [Tesis de Grado, no publicada]. Universidad Javeriana.
Martínez Castrillón, L. C. (2010). Desarrollo de un protocolo de formulación con hongos entomopatógenos para el manejo de Demotispa neivai Bondar (Coleoptera: Chrysomelidade) [Tesis de Maestría, Universidad Nacional de Colombia]. Repositorio de la Universidad Nacional de Colombia. https://bit.ly/3IwoFal
Monzón, A. (2001). Producción, uso y control de calidad de hongos entomopatógenos en Nicaragua. Manejo Integral de Plagas, 63, 95–103. https://bit.ly/2uki6SO
Mora Ramírez, S. (2018). Informe de comercio exterior del sector agropecuario 2016-2017. Secretaria Ejecutiva de Planificación Sectorial Agropecuaria. https://bit.ly/3uDMVld
Ortíz-Catón, M., Alatorre-Rosas, R., Valdivia-Bernal, R., Ortíz-Catón, A., Medina-Torres, R., & Alejo-Santiago, G. (2011). Efecto de la temperatura y humedad relativa sobre el desarrollo de los hongos entomopatógenos. Revista Biociencias, 2(2), 42–53. https://bit.ly/3IyxHne
Piedrini, N., Crespo, R., & Juárez, M. P. (2007). Biochemistry of insect epicuticle degradation by entomopathogenic fungi. Comparative Biochemistry and Physiology, Part C, 146(1–2), 124–137. https://doi.org/10.1016/j.cbpc.2006.08.003
Promotora de Comercio Exterior de Costa Rica. (2021). Anuário estadístico 2020. Obtenido el 15 julio, 2022, de https://www.procomer.com/exportador/documentos/anuario-estadistico-2020/
Ramírez, F., Chaverri, F., de la Cruz, E., Wesseling, C., Castillo, L., & Bravo, V. (2009). Importación de Plaguicidas en Costa Rica periodo 1977-2006. Instituto Regional de Estudios en Sustancias Tóxicas. https://bit.ly/3yX7Xhc
Sanches, N. F. (2005). Manejo integrado da broca-do-fruto do abacaxi. Embrapa Mandioca e Fruticultura Tropical.
Tanada, Y., & Kaya, H. K. (1993). Insect pathology. Academic Press Inc.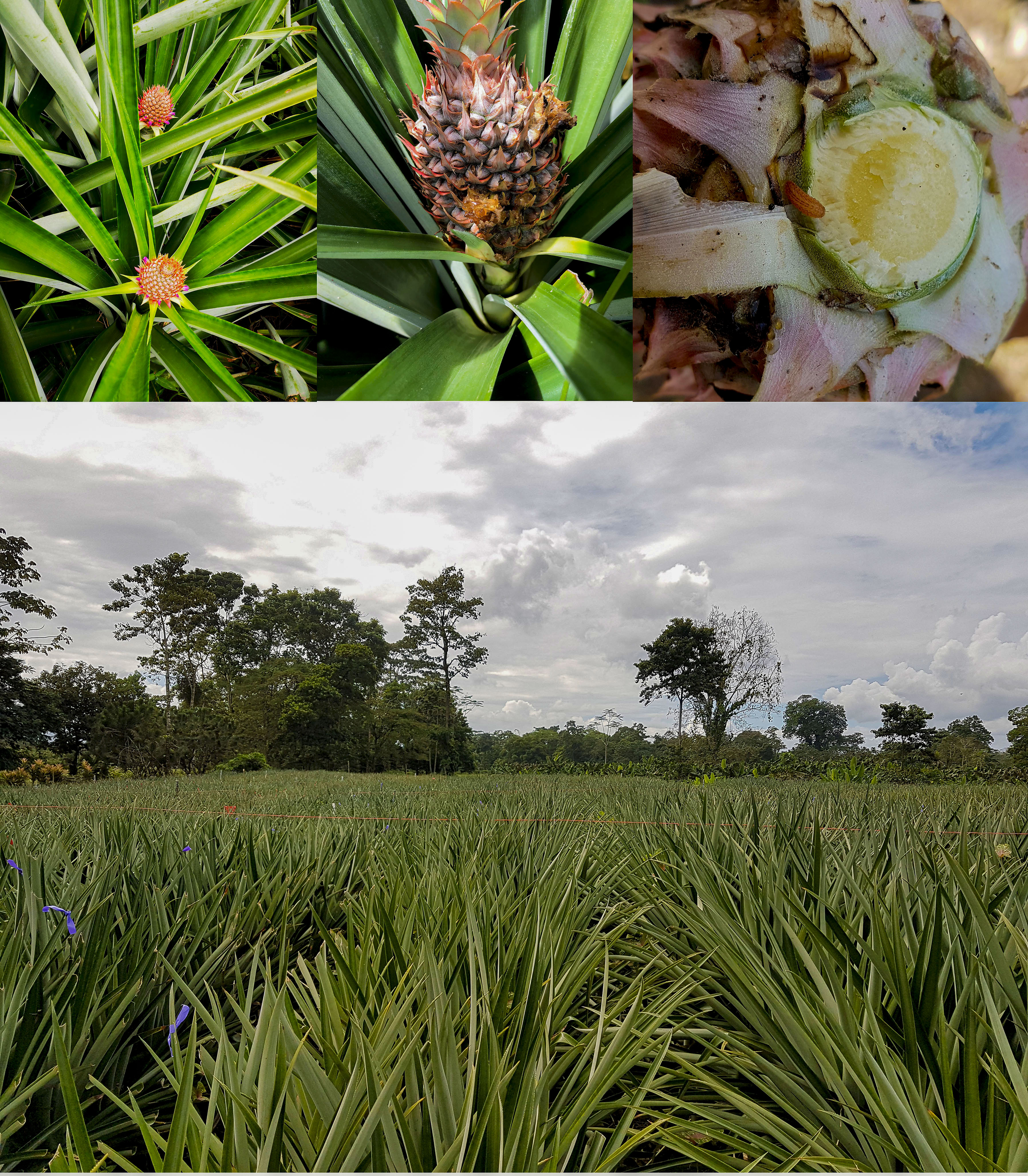 Additional Files
How to Cite
Rojas, A. R., & Peraza-Padilla, W. (2022). Use of Beauveria bassiana on the control of Tecla [Strymon megarus (Lepidoptera: Lycaenidae)] on pineapple (Ananas comosus (L.) Merr). Agronomía Mesoamericana, 33(3), 48235. https://doi.org/10.15517/am.v33i3.48235
License
1. Proposed policy for open access journals
Authors who publish in this journal accept the following conditions:

a. Authors retain the copyright and assign to the journal the right to the first publication, with the work registered under the attribution, non-commercial and no-derivative license from Creative Commons, which allows third parties to use what has been published as long as they mention the authorship of the work and upon first publication in this journal, the work may not be used for commercial purposes and the publications may not be used to remix, transform or create another work.
b. Authors may enter into additional independent contractual arrangements for the non-exclusive distribution of the version of the article published in this journal (e.g., including it in an institutional repository or publishing it in a book) provided that they clearly indicate that the work was first published in this journal.
c. Authors are permitted and encouraged to publish their work on the Internet (e.g. on institutional or personal pages) before and during the review and publication process, as it may lead to productive exchanges and faster and wider dissemination of published work (see The Effect of Open Access).