Nectary structure and nectar in <i>Sobralia</i> and <i>Elleanthus</i> (Sobralieae: Orchidaceae)
Keywords:
Deceit, Elleanthus, nectar, nectary, pollination, Sobralia, Sobralieae
Abstract
With approximately 200 species, the tribe Sobralieae is a dominant and common Neotropical group of orchids, yet little is known of variation in floral morphology as it relates to their pollination. As currently circumscribed, the tribe includes four genera that differ considerably in flower size and morphology: Elleanthus, Epilyna, Sertifera, and Sobralia. Although nectar-foraging pollinators are known for some species, the relationships of pollination to deceit and to nectar production are all poorly understood. We examined pollination-related of nectaries and nectar characteristics (presence/absence, volume, and concentration) for major clades of Sobralieae. Some species produce abundant nectar, but many species offer no reward. When present, nectar is secreted by thickened calli at the lip base. The cells of the nectariferous calli contain starch, which is rapidly converted to sugar during a brief anthesis (often lasting only one day). Most Sobralia flowers are relatively large, bee-pollinated, with a gullet-shaped lip, false nectary, large pollinia, and offer no reward. Elleanthus flowers are relatively small with a legitimate nectar reward, and most species are hummingbird- pollinated. Hummingbird-pollinated Sobralieae flowers are relatively small, brightly colored in the perianth and/or the subtending bracts, somewhat tubular, with a lip that forms a cup around the callus for storing nectar, and pollinia that are dark and relatively small. 
Downloads
Download data is not yet available.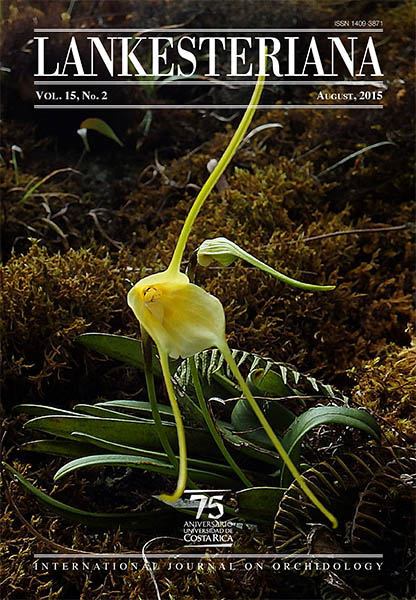 Downloads
How to Cite
Neubig, K. M., Carlsward, B. S., Whitten, W. M., & Williams, N. H. (2015). Nectary structure and nectar in <i>Sobralia</i> and <i>Elleanthus</i> (Sobralieae: Orchidaceae). Lankesteriana: International Journal on Orchidology, 15(2). https://doi.org/10.15517/lank.v15i2.20744
License
According to the Open Access policy promoted by the University of Costa Rica, all the papers published by Lankesteriana are licensed under the Creative Commons copyright and can be downloaded free of charge. The journal holds copyright and publishing rights under the CC BY-NC-ND 3.0 CR license.
Before the publication of the materials submitted by the author(s) in LANKESTERIANA, the author(s) hereby assign all rights in the article to the Lankester Botanical Garden.