<i>Diodonopsis ramiromedinae</i> (Orchidaceae: Pleurothallidinae), a new species from Colombia
Abstract
A new species, Diodonopsis ramiromedinae, is described, illustrated, and compared with similar species. A brief history of Masdevallia sect. Pygmaeae and the genus Diodonopsis is provided. Diodonopsis ramiromedinae is most similar to D. anachaeta, but differs by sepals with apices acute or acuminate-triangular vs. narrowly caudate; longer petals with a descending, narrowly linear, rounded basal process vs. with an acute, retrorse basal process; and the larger lip, obovate with the apex very broadly rounded vs. oblong-subpandurate with the apex acute.
Downloads
Download data is not yet available.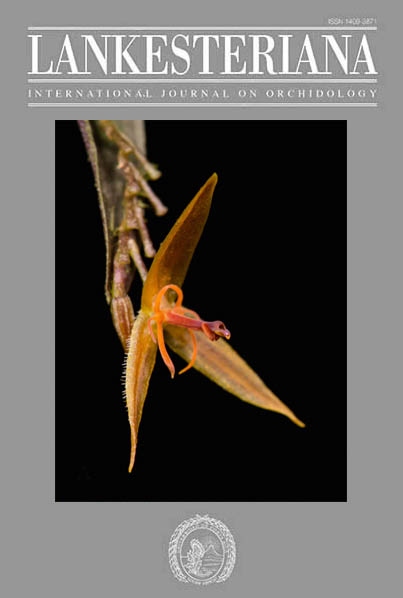 Downloads
How to Cite
Thoerle, L., & Medina Trejo, R. (2017). <i>Diodonopsis ramiromedinae</i> (Orchidaceae: Pleurothallidinae), a new species from Colombia. Lankesteriana: International Journal on Orchidology, 17(2). https://doi.org/10.15517/lank.v17i2.30077
License
According to the Open Access policy promoted by the University of Costa Rica, all the papers published by Lankesteriana are licensed under the Creative Commons copyright and can be downloaded free of charge. The journal holds copyright and publishing rights under the CC BY-NC-ND 3.0 CR license.
Before the publication of the materials submitted by the author(s) in LANKESTERIANA, the author(s) hereby assign all rights in the article to the Lankester Botanical Garden.