Lepanthes gerardensis (Orchidaceae), una nueva especie de Costa Rica
Mario A. Blanco

University of Florida, Department of Botany, 220 Bartram Hall,Gainesville, Florida 32611-8526, U.S.A. Research Associate, Jardín Botánico Lankester, Universidad de Costa Rica and Instituto Centroamericano de Investigación Biológica y Conservación, Costa Rica
Keywords:
Orchidaceae, Lepanthes, twig-epiphytism, Costa Rica.
Abstract
Lepanthes gerardensis from north-central Costa Rica is described and illustrated. It is most simi- lar to the Mexican L. ancylopetala Dressler, from which it differs in shorter habit, petiolate leaves with broadly elliptic blades, and different lip shape. It appears to be a specialized twig-epiphyte.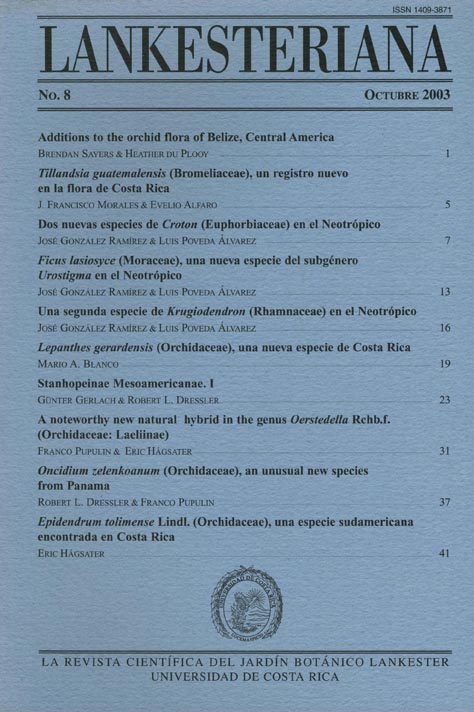 How to Cite
Blanco, M. (2016). Lepanthes gerardensis (Orchidaceae), una nueva especie de Costa Rica. Lankesteriana: International Journal on Orchidology, 3(3). https://doi.org/10.15517/lank.v3i3.22992
According to the Open Access policy promoted by the University of Costa Rica, all the papers published by Lankesteriana are licensed under the Creative Commons copyright and can be downloaded free of charge. The journal holds copyright and publishing rights under the CC BY-NC-ND 3.0 CR license.
Authors must complete and submit the Checklist for Preparation of Manuscripts and Illustrations before publication.
Please sign and send this form to: lankesteriana@ucr.ac.cr
LANKESTERIANA, International Journal on Orchidology
Jardín Botánico Lankester, Universidad de Costa Rica
P.O. 302-7050, Costa Rica
lankesteriana@ucr.ac.cr