Morphometric analysis of <i>Vanilla</i> seeds (Orchidaceae) by microscopic techniques
Keywords:
Colombia, morphology, traits, orchids, Vanilla, SEM
Abstract
Seed morphometric characters of four Colombian Vanilla species (Vanilla odorata, Vanilla calyculata, Vanilla oroana and Vanilla rivasii) were compared by using both light and electron microscopy. Seeds collected from mature fruits were studied by optical microscopy to characterize coat color, length and width of seeds in Vanilla species. Scanning electron microscopy (SEM) was used to characterize the seed surface and cell shape in these species. There were significant differences in length, width and length/width ratio. Vanilla oronana had the largest seeds (431 ± 17 μm long and 312 ± 27 μm wide) and differed from the other species by its dark brown seed coat and the presence of protrusions. Vanilla odorata was the species with smallest seeds (310 ± 15 μm long and 222 ± 18 μm wide) and light brown seed coat. Seeds of all studied species had smooth coat surfaces and were of oval to ellipsoid in shape. The characters evaluated in this work could serve as taxonomic diagnostic markers in Vanilla and these could explain important aspects of the seed biology of this genus. 
Downloads
Download data is not yet available.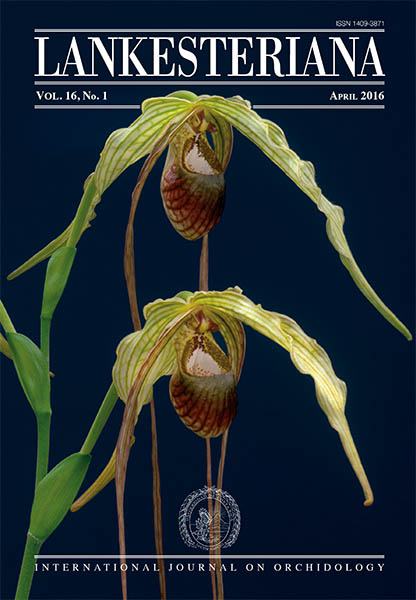 Downloads
How to Cite
Alomía, J. A., Muñoz, E., Acosta, A. M., & Otero, J. T. (2016). Morphometric analysis of <i>Vanilla</i> seeds (Orchidaceae) by microscopic techniques. Lankesteriana: International Journal on Orchidology, 16(1). https://doi.org/10.15517/lank.v16i1.23501
License
According to the Open Access policy promoted by the University of Costa Rica, all the papers published by Lankesteriana are licensed under the Creative Commons copyright and can be downloaded free of charge. The journal holds copyright and publishing rights under the CC BY-NC-ND 3.0 CR license.
Before the publication of the materials submitted by the author(s) in LANKESTERIANA, the author(s) hereby assign all rights in the article to the Lankester Botanical Garden.