Uso del microhábitat por <i>Encyclia pyriformis</i>(Orchidaceae) en la Reserva Ecológica Los Pretiles, Cuba
Abstract
La distribución de las plantas epífitas está influenciada por las características de su forófito, que provee el sustrato necesario para el establecimiento. Encyclia pyriformis (Lindl.) Schltr. es una especie característica de las arenas blancas del Occidente de Cuba, con una distribución restringida, lo cual es un elemento clave para el manejo y mantenimiento de la población en el tiempo. El objetivo del trabajo es caracterizar el uso del microhábitat de E. pyriformis y analizar la relación entre las variables ambientales y morfológicas. El estudio se realizó en 39 parcelas (25 m2), en la Reserva Ecológica Los Pretiles. Se identificaron a los individuos de E. pyriformis, en los cuales se midieron seis variables ambientales y cuatro morfológicas. Los valores promedios de las variables ambientales fue de 9.42 cm de diámetro del tronco, 66.58% de cobertura vegetal, 373 m de distancia a la costa, 0.84 m de altura sobre el suelo y 2.37 m de altura del forófito. Para las variables morfológicas los valores promedios fueron de 24.9 cm para altura del individuo, 1.87 cm de diámetro del pseudobulbo, 13.62 cm y 2.06 cm de largo y ancho de la hoja, respectivamente. No se encontró correlación entre las variables ambientales y morfológicas. La ausencia de correlación entre los dos grupos de variables parece indicar que la combinación de variables ambientales analizadas no tienen un efecto evidente sobre la morfología de los individuos de E. pyriformis. Entender los factores ambientales que limitan y afectan la distribución de las especies es crítico para el mantenimiento de la diversidad. Identificar los factores que limitan el potencial de colonización de las orquídeas permitiría predicciones certeras ante cambios futuros en la comunidad y el ecosistema, lo cual puede influir en las estrategias de manejo de la especie. 
Downloads
Download data is not yet available.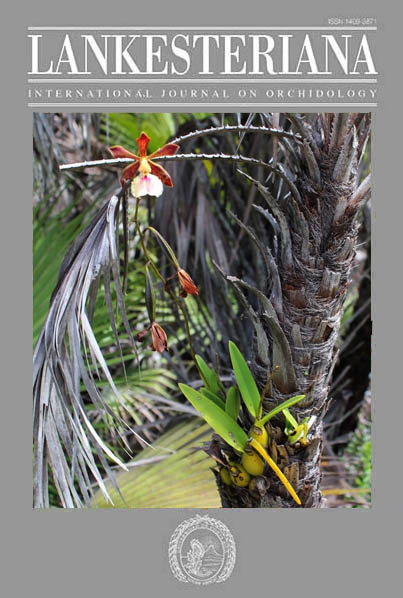 Downloads
How to Cite
Testé, E., Palmarola, A., & González-Torres, L. R. (2018). Uso del microhábitat por <i>Encyclia pyriformis</i>(Orchidaceae) en la Reserva Ecológica Los Pretiles, Cuba. Lankesteriana: International Journal on Orchidology, 18(2). https://doi.org/10.15517/lanke.v18i2.33673
License
According to the Open Access policy promoted by the University of Costa Rica, all the papers published by Lankesteriana are licensed under the Creative Commons copyright and can be downloaded free of charge. The journal holds copyright and publishing rights under the CC BY-NC-ND 3.0 CR license.
Before the publication of the materials submitted by the author(s) in LANKESTERIANA, the author(s) hereby assign all rights in the article to the Lankester Botanical Garden.