Algunas plantas en billetes, boletos de café y cafetales de Costa Rica (1836 – 2004)
Keywords:
Numismatics, coins, paper money, coffee tokens, coffee plantations, Acanthus, Guarianthe skinneri, Coffea arabica, Ceiba pentandra, Laurus sp., Myrtus sp., Olea sp., Costa Rica.
Abstract
The bank notes and coffe tokens of Costa Rica include illustrations of several species of plants. The leaf of the Acanthus sp. plant is used as an ornament in paper money from the mid XIX century to the end of the XX century. The most widely known botanical illustration of Costa Rica is the orchid, Guarianthe skinneri, the national flower, featured in the 5 colones bank notes issued from 1968 to 1992. The most common illustration in coins since 1935 is the coffee (Coffea arabica) branch (bandola) with fruits. Coffee tokens, used in Costa Rica since the mid of the XIX century, include a variety of plant forms representing the coffee tree. Coffee tokens also include illustrations of other plants, like the myrtle (Myrtus communis). The coffee industry in Costa Rica had its origins in 1840 with the first coffee exports, and soon coffee became the main crop of the country. In this work we cite some species used in coffee plantations as live fences and shade, and also some common weeds. We also mention several plant fibers used in the elaboration of the canastos, the baskets used to collect the ripe coffee fruits. 
Downloads
Download data is not yet available.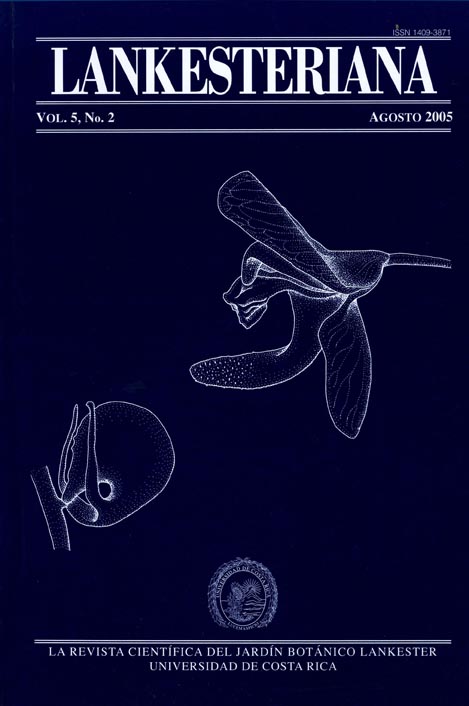 Downloads
How to Cite
Vargas-Zamora, J., & Gómez-Laurito, J. (2015). Algunas plantas en billetes, boletos de café y cafetales de Costa Rica (1836 – 2004). Lankesteriana: International Journal on Orchidology, 5(2). https://doi.org/10.15517/lank.v5i2.19806
License
According to the Open Access policy promoted by the University of Costa Rica, all the papers published by Lankesteriana are licensed under the Creative Commons copyright and can be downloaded free of charge. The journal holds copyright and publishing rights under the CC BY-NC-ND 3.0 CR license.
Before the publication of the materials submitted by the author(s) in LANKESTERIANA, the author(s) hereby assign all rights in the article to the Lankester Botanical Garden.