Estudio morfológico de Smilax L. (Smilacaceae) en Costa Rica, con implicaciones sistemáticas
Keywords:
Smilacaceae, Smilax, morfología, taxonomía, Costa Rica
Abstract
A morphologic revision of Costa Rican species of Smilax is presented. Traditionally, up to 14 species were accepted. In the present paper 7 species are recognized: Smilax domingensis, S. mollis, S. pana- mensis, S. spinosa, S. spissa, S. subpubescens, and S. vanilliodora. The following names are treated as synonyms: Smilax engleriana and S. kunthii of S. domingensis; S. hirsutior, S. angustiflora and S. candelariae of S. mollis, and S. chiriquensis and S. regelii var. albida of S. vanilliodora. Smilax regelii is excluded as a valid taxon and a lectotype of S. gymnopoda is designated. Dichotomous keys with vegetatives and reproduc- tive characters (flowers and fruits) are presented, on the basis of field and herbaria observations. For all the species many important characters useful for identification were included, such as rhizome, stem, size of tepals and variation in berry colour during development stages. 
Downloads
Download data is not yet available.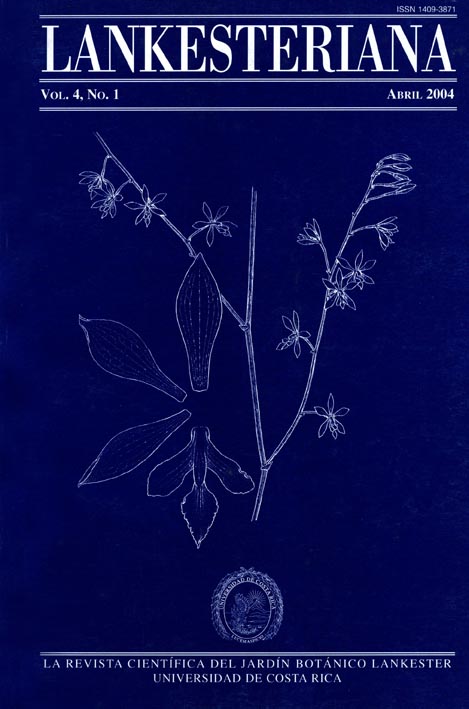 Downloads
How to Cite
Ferrufino Acosta, L., & Gómez-Laurito, J. (2016). Estudio morfológico de Smilax L. (Smilacaceae) en Costa Rica, con implicaciones sistemáticas. Lankesteriana: International Journal on Orchidology, 4(1). https://doi.org/10.15517/lank.v4i1.22978
License
According to the Open Access policy promoted by the University of Costa Rica, all the papers published by Lankesteriana are licensed under the Creative Commons copyright and can be downloaded free of charge. The journal holds copyright and publishing rights under the CC BY-NC-ND 3.0 CR license.
Before the publication of the materials submitted by the author(s) in LANKESTERIANA, the author(s) hereby assign all rights in the article to the Lankester Botanical Garden.