Reposo y germinación de semillas de Enterolobium cyclocarpum (Fabaceae): resultados de un estudio inédito y un experimento fallido
Carlos O. Morales

Escuela de Biología, Universidad de Costa Rica, 2060 San José, Costa Rica Jardín Botánico Lankester, Universidad de Costa Rica, apdo. 1031-7050 Cartago, Costa Rica
Keywords:
E n t e r o l o b i u m c y c l o c a r p u m, F a b a c e a e, g u a n a c a s t e, E a r t r e e, r e p o s o d e semillas, germinación, seed dormancy and germination, Costa Rica
Abstract
S e e d d o r m a n c y a n d g e r m i n a t i o n o f E n t e r o l o b i u m c y c l o c a r p u m ( F a b a c e a e ) : R e s u l t s o f a n unpublished work and an unsuccessful experiment. In Costa Rica, it was determined that in order to reproduce the tree species E. cyclocarpum, selected seeds might weigh 0,7 to 1,0 g. In general, the weighti- est fruits have the greatest mass of viable seeds, so that these fruits might contain the better seeds to be selected. Some seeds of this species germinated after 13 years of dormancy. Now there is evidence that the seeds of a particular crop are predeterminate to germinate in different times, this fact revealing a mid- and long-term advantageous reproductive strategy.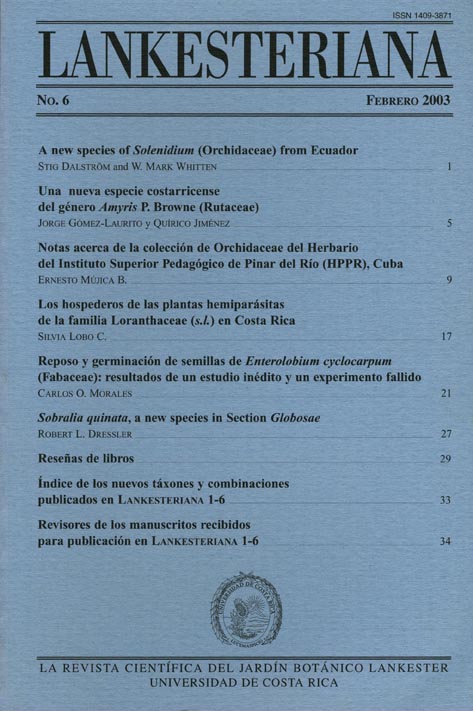 How to Cite
Morales, C. (2016). Reposo y germinación de semillas de Enterolobium cyclocarpum (Fabaceae): resultados de un estudio inédito y un experimento fallido. Lankesteriana: International Journal on Orchidology, 3(1). https://doi.org/10.15517/lank.v3i1.23084
According to the Open Access policy promoted by the University of Costa Rica, all the papers published by Lankesteriana are licensed under the Creative Commons copyright and can be downloaded free of charge. The journal holds copyright and publishing rights under the CC BY-NC-ND 3.0 CR license.
Before the publication of the materials submitted by the author(s) in LANKESTERIANA, the author(s) hereby assign all rights in the article to the Lankester Botanical Garden.