Root endophytic fungi promote in vitro seed germination in <i>Pleurothallis coriacardia</i> (Orchidaceae)
Abstract
Seeds of many orchids rely on the presence of fungi to trigger the germination process and even to initiate the full development of protocorms. While attention has been directed towards the study of mycorrhizal fungi, the diversity and functions of endophytic fungi from orchid roots remain underexplored, and few studies have verified their ecological role. This is the case of Pleurothallis coriacardia, an endemic green Neotropical orchid with both epiphytic and lithophytic habits growing in High-Andean montane forests. In the present study, we screened the cultivable fraction of the endophytic fungi colonizing the roots of mature plants of P. coriacardia using ITS rDNA markers. We also tested the potential of these endophytic fungi to improve embryo development and seed germination. Most of the isolated endophytes were classified within Psathyrellaceae. Some isolates, identified as members of the Ilyonectria and Coprinellus genera, significantly promoted embryo development in vitro in P. coriacardia seeds, a result that highlights the ecological roles these endophytic fungi may play in nature.
Keywords: Andean montane forest, embryo development, epiphytic orchids, Ilyonectria, lithophytic orchids, Psathryrellaceae
Downloads
Download data is not yet available.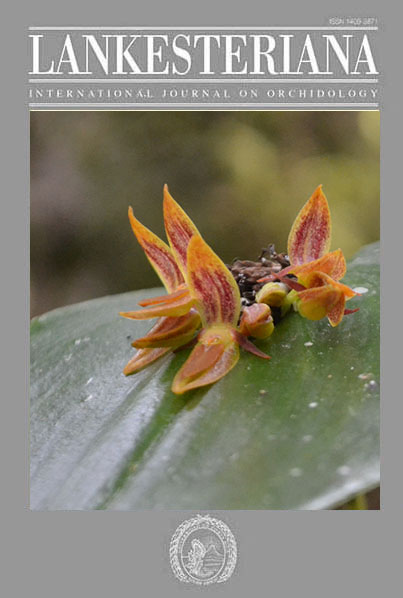 Downloads
How to Cite
Maldonado, G. P., Yarzábal, L. A., Cevallos-Cevallos, J. M., Chica, E. J., & Peña, D. F. (2020). Root endophytic fungi promote in vitro seed germination in <i>Pleurothallis coriacardia</i> (Orchidaceae). Lankesteriana: International Journal on Orchidology, 20(1), 107–122. https://doi.org/10.15517/lank.v20i1.41472
License
According to the Open Access policy promoted by the University of Costa Rica, all the papers published by Lankesteriana are licensed under the Creative Commons copyright and can be downloaded free of charge. The journal holds copyright and publishing rights under the CC BY-NC-ND 3.0 CR license.
Before the publication of the materials submitted by the author(s) in LANKESTERIANA, the author(s) hereby assign all rights in the article to the Lankester Botanical Garden.