A new species of Odontoglossum (Orchidaceae: oncidiinae) from Ecuador
Stig Dalström

Lankester Botanical Garden, University of Costa Rica Ángel Andreetta Research Center on Andean Orchids, Universidad Alfredo Pérez Guerrero, Ecuador

Gilberto Merino

Ángel Andreetta Research Center on Andean Orchids, Universidad Alfredo Pérez Guerrero, Ecuador
Palabras clave:
ecuador, orchidaceae, oncidiinae, odontoglossum, new species
Resumen
A new and horticultural desirable species of Odontoglossum from Ecuador is described, illustrated and compared with similar species.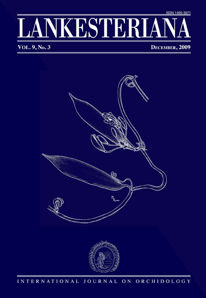 Cómo citar
Dalström, S., & Merino, G. (1). A new species of <i>Odontoglossum</i&gt; (Orchidaceae: oncidiinae) from Ecuador. Lankesteriana: International Journal on Orchidology, 9(3). https://doi.org/10.15517/lank.v0i0.12110
Conforme con las Políticas de Acceso Abierto promovidas por la Universidad de Costa Rica, los derechos de autor de todos los artículos publicados en Lankesteriana se encuentran bajo una licencia Creative Commons y pueden ser descargados gratuitamente. Los derechos de autor y de publicación pertenecen a la revista bajo la licencia CC BY-NC-ND 3.0 CR.