On the identity of <i>Myoxanthus scandens</i> (Orchidaceae: Pleurothallidinae), with a new species from Costa Rica
Keywords:
myoxanthus scandens, costa rica, myoxanthus sotoanum, new species, orchidaceae
Abstract
We present and illustrate a new species of Myoxanthus from Costa Rica, closely related to M. scandens. We present descriptions and illustrations of both species. The new species, Myoxanthus sotoanum differs from M. scandens, by its linear leaves, the brownish-yellowish flowers, the yellow petals and lip, the oblong, obtuse, subfalcate lateral lobes of the lip, the two keels extending nearly to the middle of the lip, and the shorter, triangular, acute teeth that flank the stigma. Myoxanthus sotoanum generally also occurs at lower elevations than M. scandens.
Downloads
Download data is not yet available.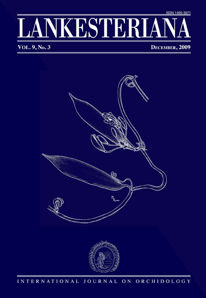 Downloads
How to Cite
Pupulin, F., Bogarín, D., & Fernández, M. (2013). On the identity of <i>Myoxanthus scandens</i> (Orchidaceae: Pleurothallidinae), with a new species from Costa Rica. Lankesteriana: International Journal on Orchidology, 9(3). https://doi.org/10.15517/lank.v0i0.12108
License
According to the Open Access policy promoted by the University of Costa Rica, all the papers published by Lankesteriana are licensed under the Creative Commons copyright and can be downloaded free of charge. The journal holds copyright and publishing rights under the CC BY-NC-ND 3.0 CR license.
Before the publication of the materials submitted by the author(s) in LANKESTERIANA, the author(s) hereby assign all rights in the article to the Lankester Botanical Garden.