An updated checklist of the Orchidaceae of Panamá
Keywords:
floristics, taxonomy, systematics, biogeography, species distribution
Abstract
The Orchidaceae is one of the most diverse vascular plant families in the Neotropics and the most diverse in Panama. The number of species is triple that of other well-represented families of angiosperms such as Rubiaceae, Fabaceae and Poaceae. Despite its importance in terms of diversity, the latest checklist was published ten years ago and the latest in-depth taxonomic treatments were published in 1949 and 1993. The accumulation of information over the years and the need to update the nomenclature and to clarify taxonomic concepts made necessary the publication of an up-dated checklist of the Orchidaceae of Panama. This checklist was completed by studying specimens strictly collected in Panama and vouchered in herbaria. Species are presented alphabetically with their synonyms and herbarium vouchers. The data were analyzed to explain the patterns of geographic distribution, most diverse taxa, endemism, exotic species and relationships with other nearby floras. The checklist contains 1365 species (including two natural hybrids and three subspecies) in four subfamilies, 16 tribes, 27 subtribes and 187 genera. Four exotic species were recorded. A total of 296 (21.7%) species are endemic. Epidendroideae is the most diverse group housing more than 90% of species. The most diverse subtribes are Pleurothallidinae (30 genera, 405 spp.), Laeliinae (16 genera, 292 spp.), Oncidiinae (29 genera, 157 spp.) and Maxillariinae (18 genera, 132 spp.). The most diverse genera are: Epidendrum (206 spp.), Stelis (88 spp.), Lepanthes (66 spp.) and Pleurothallis (54 spp.). Nomenclatural changes are proposed in Maxillariella, Pleurothallis, Specklinia, Stelis and Trichocentrum. Many areas remain unexplored for orchids, and we estimate that much work remains to complete a floristic treatment that reveals more realistic data on the orchid flora that Panama harbors. This checklist is an important initial step toward the development of an illustrated treatment of the Orchidaceae of Panama. 
Downloads
Download data is not yet available.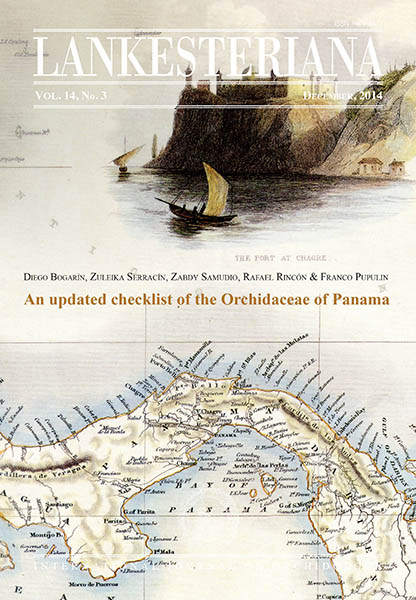 Downloads
How to Cite
Bogarín, D., Serracín, Z., Samudio, Z., Rincón, R., & Pupulin, F. (2015). An updated checklist of the Orchidaceae of Panamá. Lankesteriana: International Journal on Orchidology, 14(3). https://doi.org/10.15517/lank.v14i3.17958
License
According to the Open Access policy promoted by the University of Costa Rica, all the papers published by Lankesteriana are licensed under the Creative Commons copyright and can be downloaded free of charge. The journal holds copyright and publishing rights under the CC BY-NC-ND 3.0 CR license.
Before the publication of the materials submitted by the author(s) in LANKESTERIANA, the author(s) hereby assign all rights in the article to the Lankester Botanical Garden.